Customization to Meet Your Needs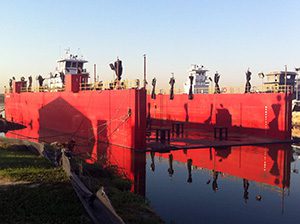 At San Jac Marine, LLC, we understand that keeping your fleet of vessels up and running is critical to the success of your operations. In addition to the dry dock facilities in our own shipyards, we are proud to offer a variety of custom dry dock manufacturing solutions for customers all over the world. We design custom dry docks for a variety of needs for our customers, including regular inspections, maintenance, repair, vessel upgrades and emergency support.
Dry Docks
Our custom floating dry docks include a wide variety of features, including:
Custom Manufacturing Built to Customer Specifications
Rigorous QA/QC Protocols
On-Time/On-Budget Delivery
Safety Compliance
San Jac Marine, LLC's Commitment to Total Customer Satisfaction
Whether you need one floating dry dock or several, rely on San Jac Marine, LLC to keep your fleet in the best working shape possible. Contact us today.