Quality Repair & Maintenance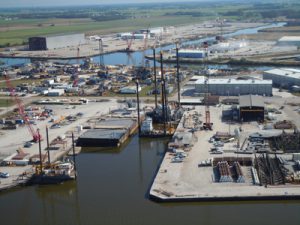 Whether you originally purchased a vessel from San Jac Marine, LLC, or from another manufacturer, we offer a host of repair and maintenance services. With three convenient locations, staffed with experienced maintenance personnel, our capabilities include:
200' x 70' - 2000-Ton
160 x 64' - 1600-Ton
100' x 70' - 1300-Ton
100' x 54' - 900-Ton
Electric Shop
ABS Certified Welders
In-House Carpenter Shop
Blasting & Painting Services
Local Marine Chemist
Local Propeller Shop
Carlisle and Finch and Aqua-Signal Dealer
Bilge Cleaning
(2) 9310 American 250-Ton
Linkbelt 200-Ton
Manitowoc 4000 175-Ton
Grove 40-Ton Hydraulic Crane
15-Ton Grove Cherry Pickers
Floating Crane
No matter what kind of repair or maintenance you need, rely on San Jac Marine, LLC to keep your vessels moving. Contact us today.